Main Features of LED High Ceiling Lights and Floodlights
90,000-hour life cycle
LED chips are made with glass ceramics that have superior heat radiation factor and resistance to sulfurization discoloration. Because of their resistance to light transmission, LED chips have higher reflectance ratio, higher output power, higher luminosity and prolonged durability.
Eye-frendly
LED light emitted by the diffuse reflection technology using our unique light reflectors is friendly to our eyes, which leads to improved safety and security.
Resistant to vibration
Conventional light are sensitive to vibration and impact as they use glass tubes. LED lights are highly are impact-resistant to vibration, shock and earthquakes.
Efficient even in cold climates
In cold climates, LED lights have a long life cycle while conventional lights such as sodium vapor lamps have a shorter life cycle.
Flicker-free
LEDs have no flicker since they use direct current.
Fewer bugs attracted to the light
LED lights do not emit ultra-violet rays,with wavelengths ranging around 350mm, and therefore attract very few insects.
Our LED light named "HOshino-Hikari" and its life cycle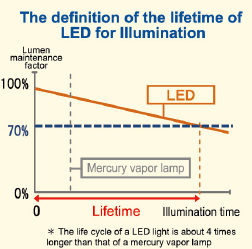 Conventional light sources my not light up at all if their filaments break. This does not happen with LED lights as they use a solid light emitting system. However, the LED light components gradually degrade with age and the amount of light emitted by an LED decreases in proportion to hours of use. The Japan Luminaries Association has stipulated that the life cycle of white LED lights which are used for ordinary illumination purposes ends when they are down to 70% of their initial total luminous flux. Our "Hoshino-Hikari" LED lights have heat radiation advantage, resulting in longer product life and less luminous flux attenuation. With less power consumed, LED lights perform as well as mercury vapor lamps or sodium vapor lamps.
◆Comparison with conventional light sources
Sodium vapor road light(220W) compared with "Amano-Gawa" LED road light(120W)

Sodium vapor road light(180W) compared with "Amano-Gawa" LED road light(188W)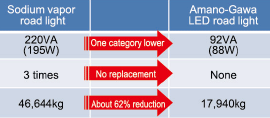 ※Kansai Electric Power Company electric power rate table is used.
※Calculation is dose on 10 units, assuming 4,000-hour use per year for 20 years.
---